Hello everyone, it's Colin! If you are reading this article today it's because Boras asked me some time ago to write here about my passion: denim
For this first article, I'm going to tell you about a denim brand still little known in France but already quite successful on English menswear forums and in Japan. It is the TCB brand, which is established in Kojima, Okayama Prefecture, in Japan. This brand is a garment workshop that exists since 2008, which is specialized in jeans but also makes pants, shirts, jackets and other items. The TCB factory manufactures its own brand but also makes clothes for other brands. (Fun Fact: I discovered that one of my favourite Japanese brands is sewn partly there!). The acronym TCB comes from "Two Cats Brand" and if you are reading this post, it's because I've been wearing one of their jeans for almost 2 years now and I fell in love with it.
I discovered the brand on the Superfuture forum when it started to be known in 2012. It was also that year that I started to get very interested in jeans, studying the English forums at length. I saw one of their models for the first time with my own eyes at a friend's on a trip to the United States back in 2014. I was very intrigued by the denim which was very hairy and looked like what you can find on a Levi's from the 50s. There were a lot of period-correct "details" but with a very dark indigo blue and a more irregular denim. Back from my trip, I quickly ordered the model 50's (straight)  in "one-washed" state and in size 32. It's also the same that Qube is wearing on the blog. Unfortunately, I had not done enough research on sizing and I did not have the experience of online shopping by comparing measurement guides yet. The pants, once received, turned out to be too big! I sold it to a friend and moved on without trying to take my size. The straight and wide cut (based on a Levi's from the 50s) did not suit me at the time and the slim version did not exist at the moment. It is only 2 years later that I would visit the TCB garment workshop during a trip to Japan.
Over time, the brand gained popularity on the English forum Superfuture, including via a "fade contest" organized by members of the forum and whose jury was composed of members of the TCB factory. The challenge was to wear a TCB 50's jeans as much as possible for a whole year, and the one who ultimately had the best fades was offered a new pair of jeans or an item of their choice directly by the brand! The contest was so successful that others followed. There is one that is still running and this time over two years with the most recent model: TCB 20's.
Kojima, Jeans street and TCB Workshop
During the summer of 2017, I had the chance to realize a dream: a trip to Japan with my girlfriend. A détour to Okayama was essential because this region is the cradle of Japanese denim. Indeed, the first Japanese denim fabric was designed by Kurabo for the Big John brand, a fabric called "KD-8" (for Kurabo denim 8th test).
A large number of weaving mills (denim mills) and confectionery workshops are located there next to each other. It is in the small town of Kojima that lies the interesting and more touristy part of the denim world. There is a street in this small coastal town called "Jeans Street" where there are many denim stores and indigo-dyed garments. There are stores from Big John brands, Japan Blue, Momotaro, Soulive, Pure Blue Japan but also other more intimate brands that are still unknown in Europe.
I knew that the TCB factory was next to the jeans museum and I e-mailed TCB boss Hajime Inoue to find out if my girlfriend and I could visit the factory. I did not expect to receive an answer, but in less than an hour, he answered to my request and offered to pick us up personally by car at Kojima train station to take us on a tour!
Here are some pictures of Jeans Street and Kojima. The very good French website Gaijinjapan gives you a very good insight of the place, if you are interested in knowing more. I did not take many pictures during my visit, because I was too busy trying jeans from all brands represented there!
About 2 kilometres from Jeans Street are the Betty Smith Mill and the Jeans Museum. The Jeans Museum traces the history of denim and explains how the Japanese have developed their first denim and made their first jeans.
The Jeans Museum is a "must-see" if you go there, as the objects and anecdotes that are exposed are extremely interesting. I learned so much about it that I did not take time to take pictures. I didn't think at the moment that I would have to write an article about it! For those who are interested in knowing more, I recommend the very good french website Voyapon which goes through the contents of the 3 buildings with exceptional pictures.
Next to the Betty Smith factory and the museum is the grail: The TCB factory.
The ground floor of the place serves as material storage which we, unfortunately, haven't visited. The store part pictured below was still under construction during our visit but now serves as the Flagship store.
Hajime Inoue, the boss of TCB, took us on a tour of his factory, going through the fabric cutting room upstairs and the sewing workshop on the first floor. We were able to tour the very old sewing machines used to make jeans and other clothes. Mr Inoue explained why he used these particular machines and not others: to keep the same methods and techniques of production of the Levi's factories of earlier times, to remain as authentic as possible. We were able to see every step involved in assembling jeans from cutting the fabric to assembling the different parts and finally to the latest finishes such as buttons and rivets.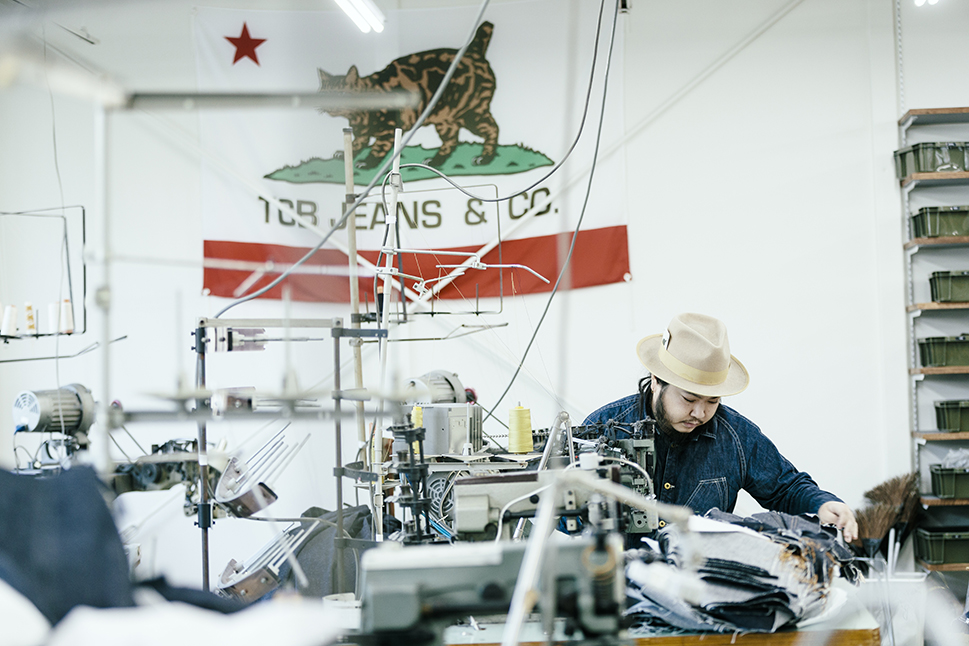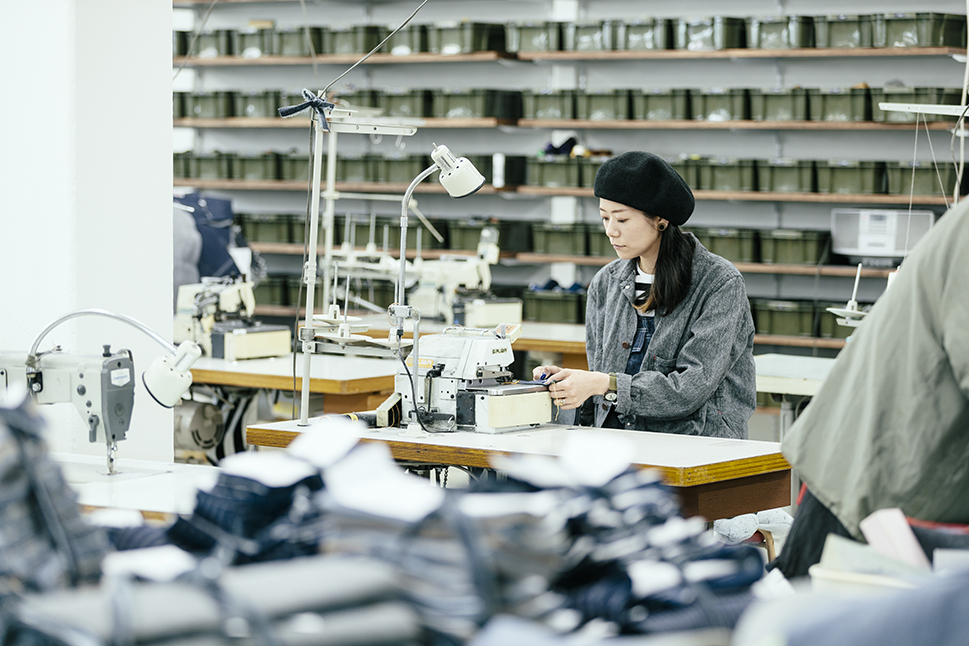 It was at the end of the tour that I finally threw myself on the clothes and samples in stock. I quickly spotted a pair of jeans that I had in mind and had just been released a few weeks before our trip: the TCB 50's slim. The same denim and the same construction as the straight model that I'd bought two years ago but with a modified cut!
The cut is slightly low-rise with fitted legs and a narrower leg opening than the other models offered in TCB's arsenal. The details I like in the straight are all here: V-stitch, hidden rivets, 50s Levi's inspired denim and a leather patch with an original design which keeps up with the brand's mindset. I bought it instantly and I shortened it in length with the help of Hajime Inoue on the legendary UnionSpecial 43200G chain stitches machine. This sewing machine, called the "Bull Dog" produces the best "roping effect" on the hem that I have seen so far. As a bonus, my girlfriend also found something for herself: their only denim for women, the "Norma" jeans that are inspired by one of the first Levi's for women (model 701).
I did not have the opportunity to officially interview Hajime Inoue during my trip. Doing it by email does not make sense to me because many interviews exist and are easily found on the internet. I invite you to read the quite complete interview of Hajime Inoue on the website Medium.
In conclusion, I was able to make an exciting and very rewarding meeting, as much as in terms of increasing my knowledge on denim and its methods of confection as on the human level. Hajime Inoue is a person with extraordinary kindness and patience. He has a real passion and has realized his dream: to work with denim. He even says that the acronym "TCB" originally meant: Takin 'Care of Business.
TCB 50's slim
Now I'm going to talk to you about my jeans, the 50's slim model.
Technical sheet :
Slim fit, medium to low rise
Unsanforized denim 13.5oz pre-wash, about 14.5oz post-wash.

Exclusive and custom denim for TCB.
Woven in Japan at Ihara in Okayama prefecture with Zimbabwe cotton.
A denim fabric inspired by a Levi's 501 from the 50s. Light vertical slubs.
Yarn dyed with indigo with "Rope dye" method which preserves the heart of the white fibers.
Contrasting or uniform fades according to the frequency of washing and wear.

Copper rivets, with hidden rivets on the back pockets.
Iron buttons, designed to rust slightly over time.
Sewn with 5 different threads of different thickness and with 4 different colours, the threads are made in Japan 100% cotton.
Pink/red selveage
Chain stitch hem on the mythical UnionSpecial 43000G often called the "Bulldog" machine

Extremely pronounced roping at the hem is guaranteed if made on the TCB factory machine!

Cow leather patch with logo of 2 cats.
Here are my jeans, worn since summer 2017 about every third day. I would say that I wore them for a full year (365 times at least!). The pair saw some washing by hand, a dozen machine washes and four passes in the tumble dryer. I waited for about thirty wears before washing it the first time by hand. I then washed it with my washing machine in a delicate cycle and spinning 400 rpm.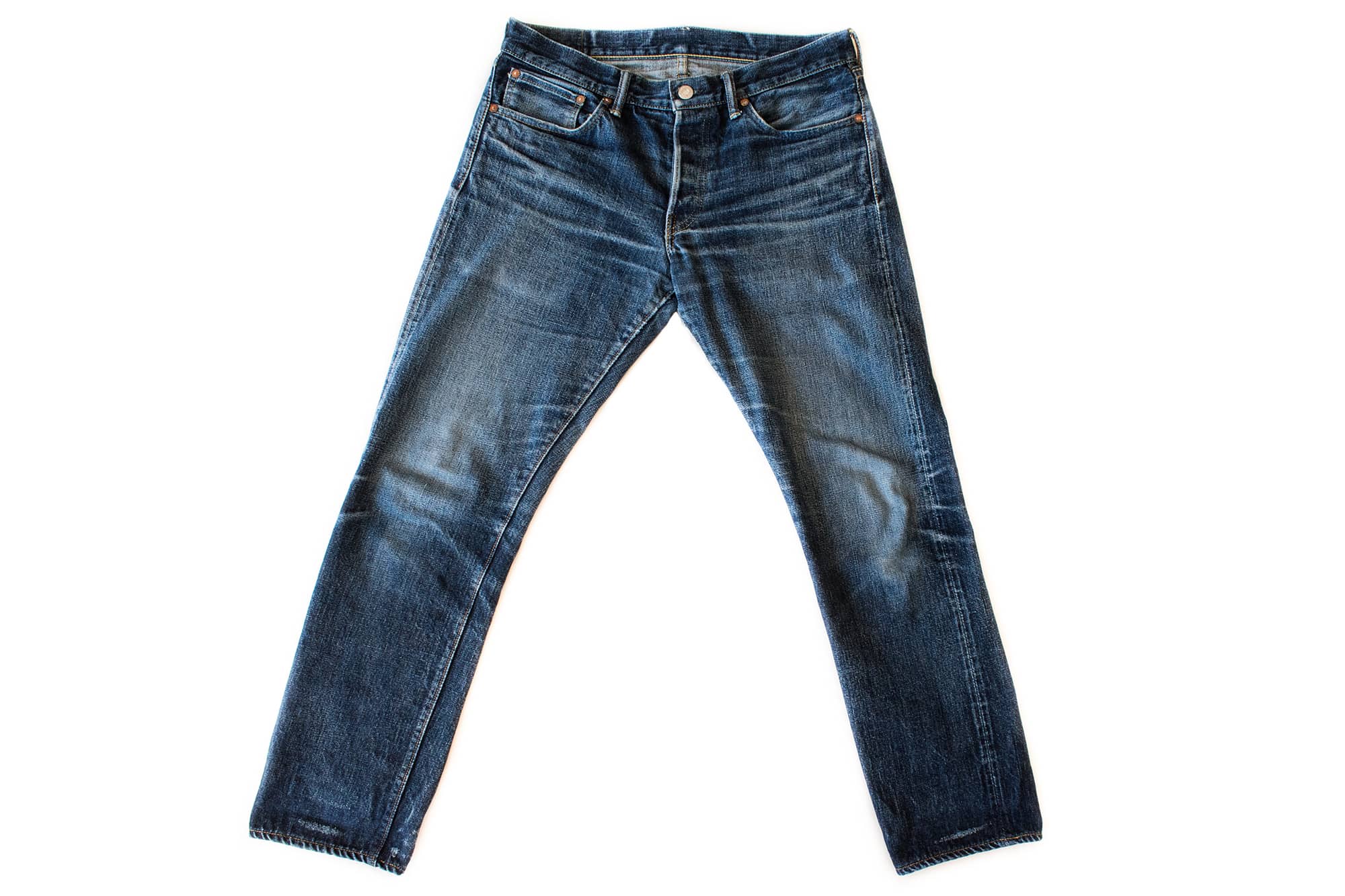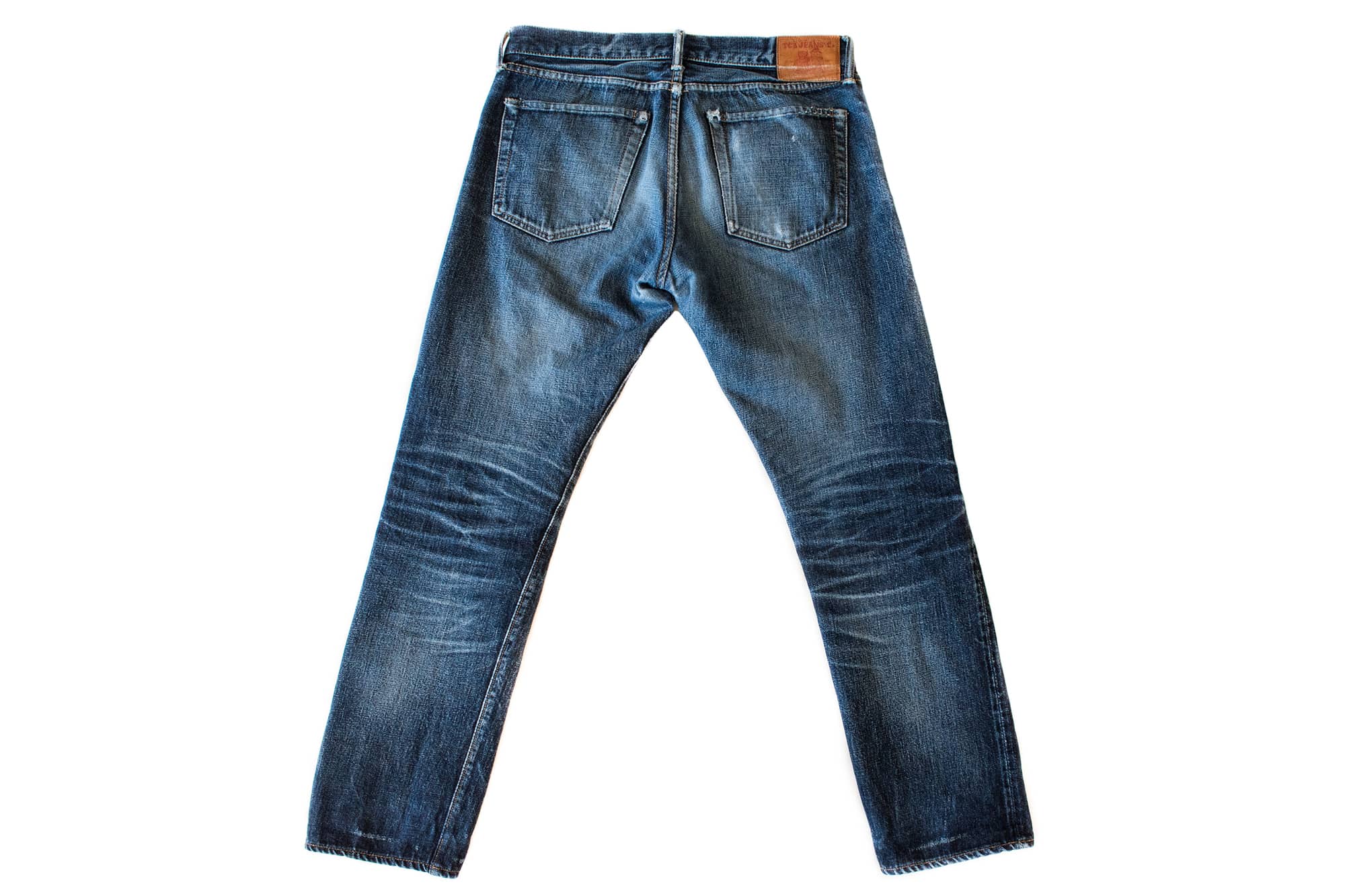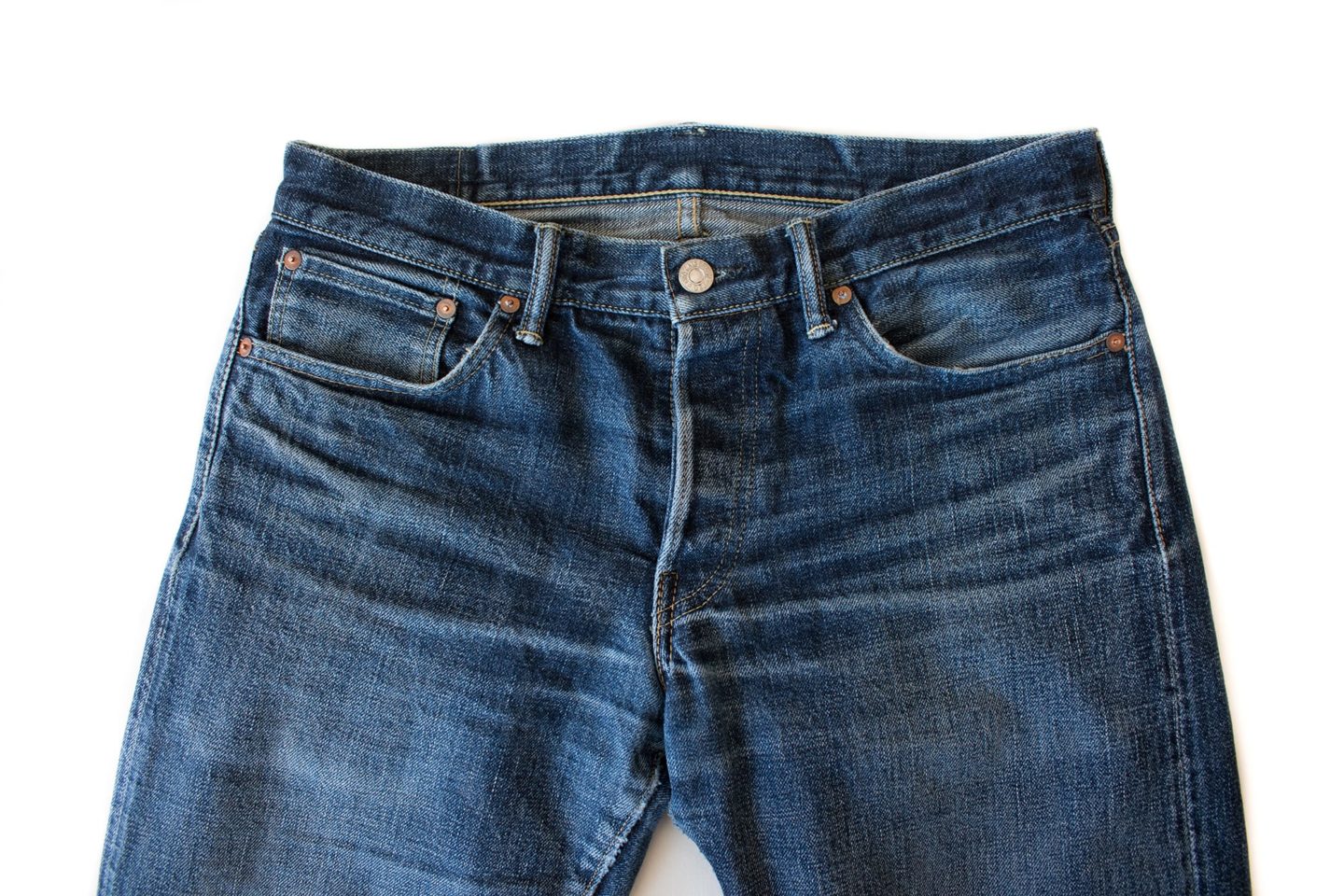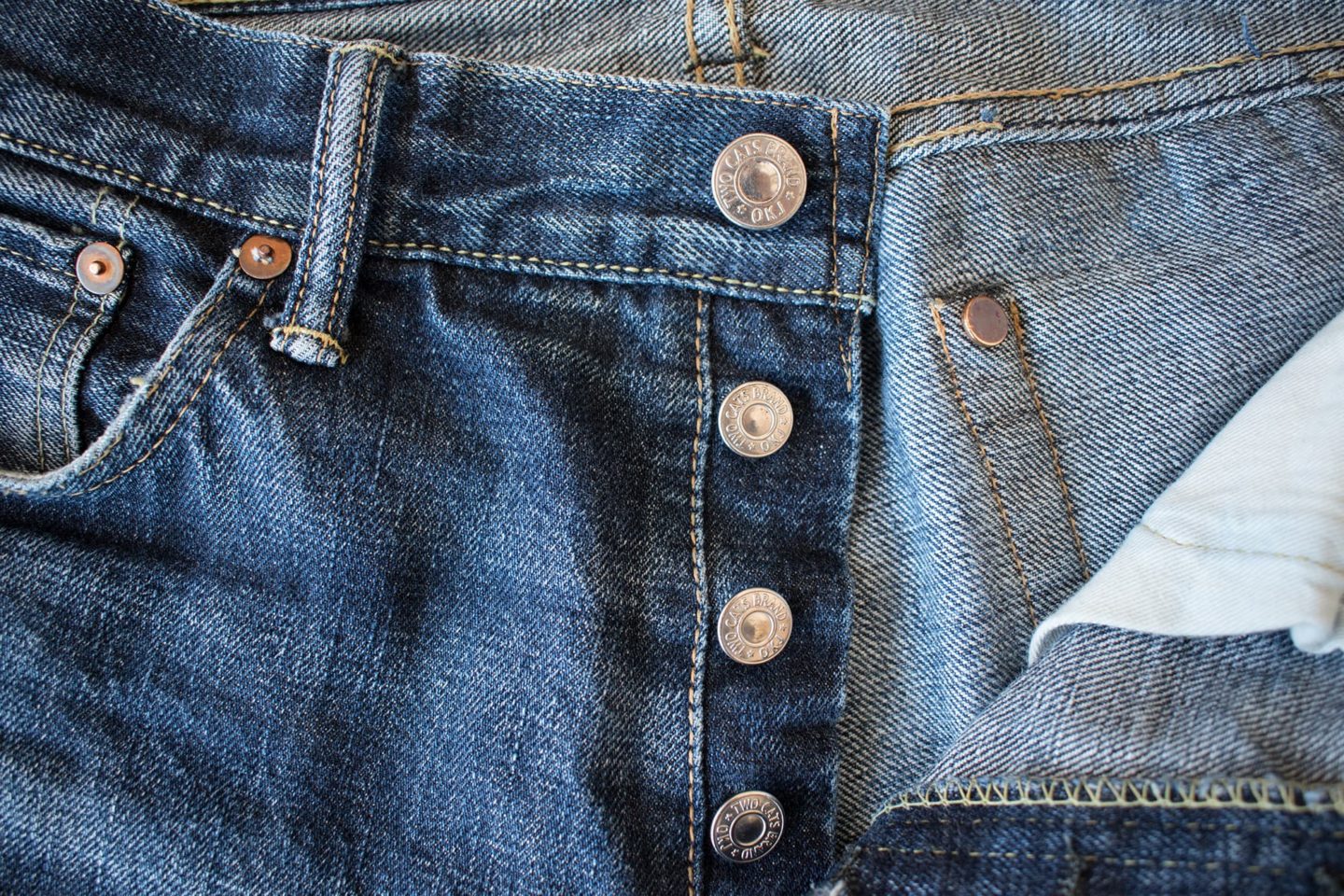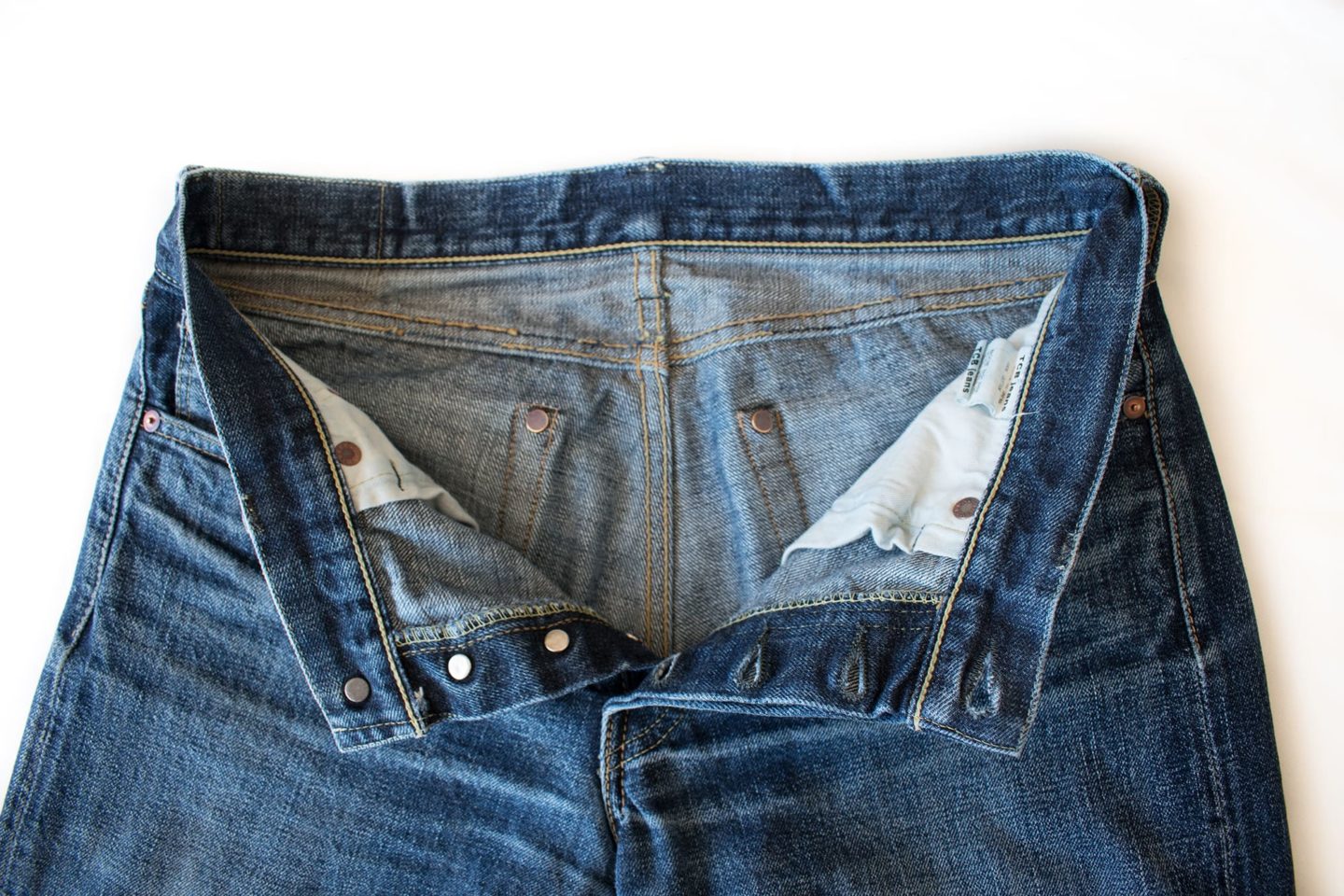 The hidden rivets that I love so much are there! We can see that the seams of the "Yoke" (back of the pants, top of the pockets) were worn out. I repaired them with natural indigo hand-dyed thread made by Buaisou to strengthen the weakened parts after many wears.
What would be a review of a pair of jeans without the most important detail!
The FIT of the TCB '50s slim
This TCB '50s slim is as the name suggests: slim. A rather low waist with 4 buttons. If you are used to jeans with "modern" cuts you won't be lost. There is space at the hips and thighs with a "tapering" on the entire leg. Difficult to put it in a specific category, but it is close to what is called a "slim tapered".
The TCB 50's slim model is excellent. The cut is not perfect for my morphology, but I had a lot of fun wearing it. It is slim with room at the thighs and hips, a detail that puts the jeans at the top of the stack for me.
This denim is a reproduction of a Levi's from the '50s and the colour was of very deep indigo at first. The first wears wake up the fabric which becomes gradually very hairy as the excess of cotton fibers comes off. The weight of the denim is in the middle range, which allowed me to wear it all year. It has, in fact, seen its first wears on the hottest days in Japan where the thermometer reached 35°C!
Hajime Inoue has kept the details of a 501 from the '50s incorporated them into a fitted pair of jeans with a modern but comfortable fit. No unnecessary details like lined loops or taped seams, nor back lined pockets. Functional simplicity in its pure state as it was once. The price is ¥18,100 which is about 150€.
If you are interested in buying TCB jeans, I strongly advise you to go directly through the factory E-shop where it is easy to write on the order the desired final length. This will allow you to get the roping hem that TCB is famous for at no added cost.
For me, the TCB '50s models "straight" and "slim" size normally with a little space at the hips and waist. Perfect for a snug fit but comfortable from the start. I take 30 US on most of my jeans and those ones are no exception.
I hope you enjoyed this first article. Feel free to post comments on topics that may interest you for future articles and any questions you may have regarding Kojima and TCB.
Thank you for reading and see you next time.
Colin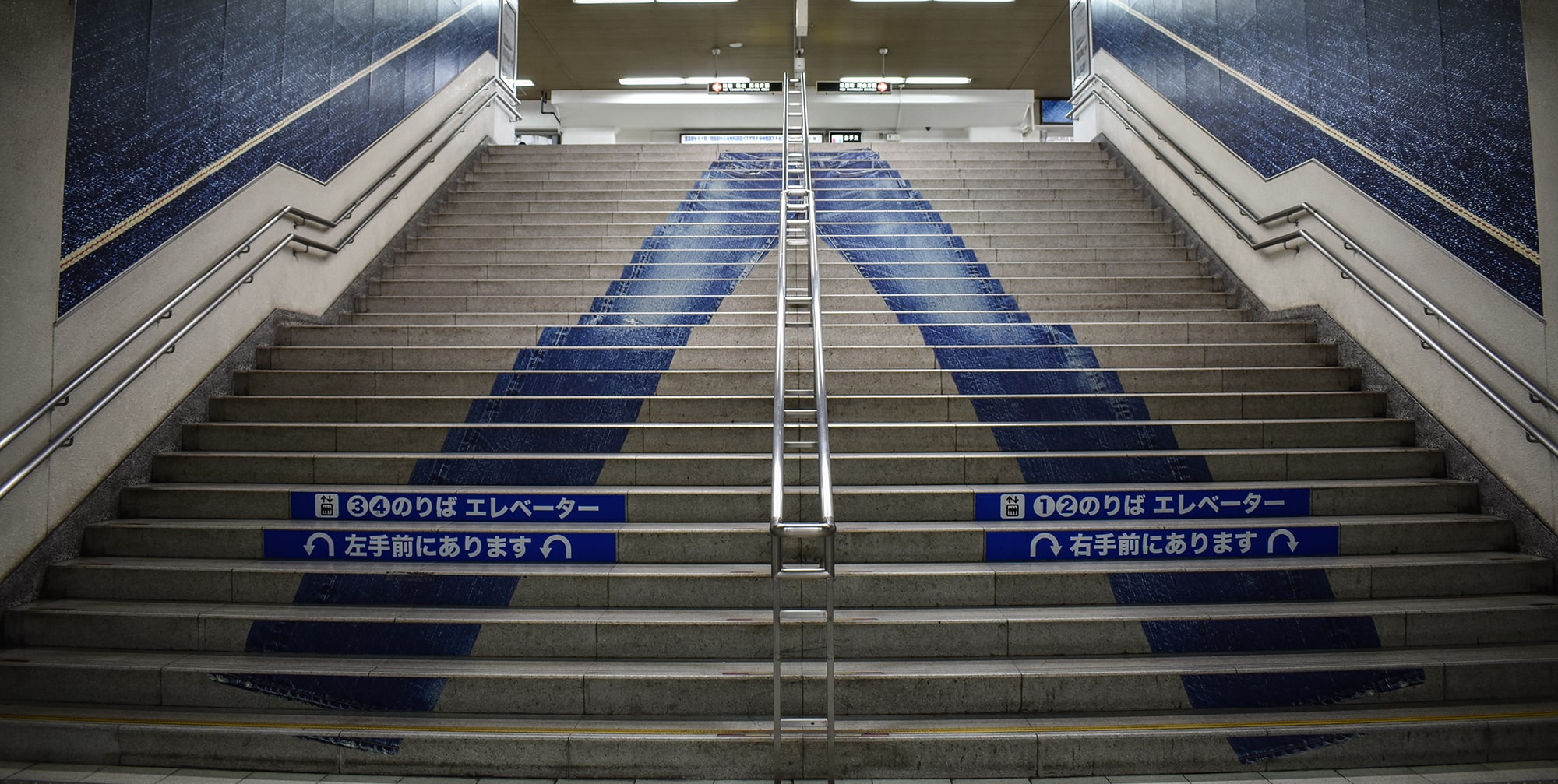 Passioné par le denim et les vêtements japonais. J'habite en Suisse et j'aime le fromage mais pas le chocolat. Vous pouvez me retrouver sur instagram